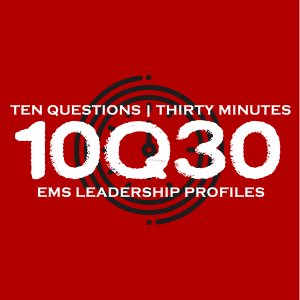 Thursday Dec 09, 2021
Episode #169: 10 Questions | 30 Minutes: Wolcott Volunteer Ambulance Association, Wolcott, CT
We visit with the Leadership Team from Wolcott Volunteer Ambulance Association in Wolcott, CT.  Join us as we pose ten questions to them regarding their organization on topics that affect EMS across our nation.  Take a listen about their dedicated team, their community and their commitment to always providing top-notch emergency medical care over their decades of service.

Join Gary and Chuck along with the Wolcott team of Chief Bill Barratt and Deputy Chiefs Peter Kaminsky and Andrew Albert as they respond to our 10 questions in 30 minutes (10Q30). 
A great session with comments from leaders of a very proud and innovative organization.  Join us!
 Presenters:  Gary Harvat, Chuck Humphrey